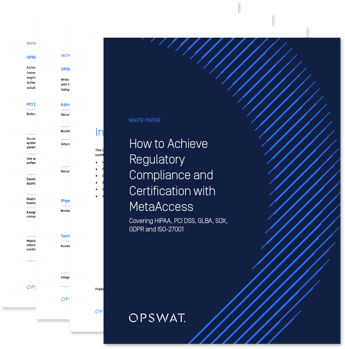 Regulatory Compliance Guide for Secure Access
Achieving compliance with HIPAA, PCI-DSS, GLBA, GDPR and SOX.
Meeting your organizations own security policies both external regulatory compliance requirements can be both confusing and difficult, especially with Defense in Depth strategies in place today.  Evaluating how secure access solutions address compliance requirements and assessing gaps is critical to minimizing organization risk. Traditional approaches rely on using multiple point solutions and are more expensive and difficult to manage than a single platform.
In this white paper, you will learn:
Summary of secure access related compliance regulations
Review of specific requirements for HIPAA, PCI-DSS, GLBA, GDPR and SOX
Review of specific requirements for ISO 27001 certification
How OPSWAT addresses regulatory and certification requirements