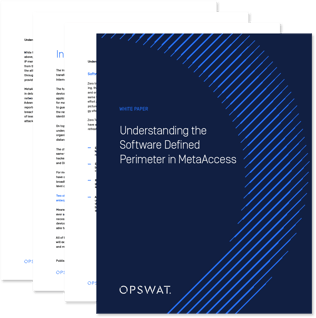 Software Defined Perimeter (SDP) Guide
OPSWAT SDP provides secure, trusted endpoint access from any device to any location.
The risk of breaches such as Distributed Denial of Service (DDOS) and Man in the Middle (MITM) attacks continue to rise. As workers access applications and data from anywhere, learn how SDP addresses these issues, is easily implemented, and provides a better user experience than traditional approaches such as a VPN. 
In this white paper, you will learn:
Basic SDP principles
How SDP architecture works
Common SDP use cases
Best practice implementations with OPSWAT MetaAccess