Unidirectional Security Gateway and Data Diode Comparison Guide
Summary
Over 30 Industry-Leading Products Reviewed
The research needed to select the right Unidirectional Security Gateway for your use case and environment can be daunting. To make this process easier, we did the research for you and consolidated it in one place.
This guide includes:
The scope of the unidirectional security gateway market

Dimensions and hardware requirements of each unidirectional security gateway

Each product's compatibility with MetaDefender Kiosk

And much more!
To help select the right solution for secure one-way transfers of data, we've reviewed over 30 industry-leading unidirectional security gateway products, including details on:
Product description

Value proposition

Security gateway and diode technology

Certifications awarded

Supported transfer protocols

Supported encryption standards

Throughput

Data masking capabilities

Physical dimensions

Sales and support contact information

Guest user support

Documented integration with OPSWAT MetaDefender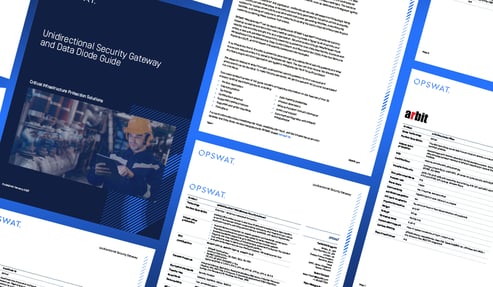 Over 1,500 organizations trust OPSWAT to protect their critical infrastructure